Tuff Hedeman Brings Championship Bull Riding Back to the Super Bull
40th George Paul Memorial Bull Riding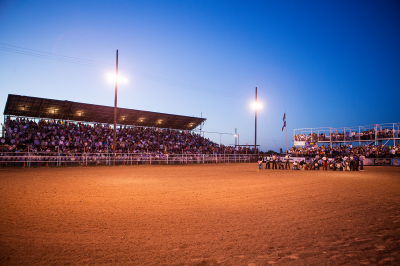 DEL RIO, Texas (March 15, 2017) - Stuff your bull riding fans' Easter Eggs with tickets and plan now to join Tuff Hedeman, Bobby Paul and the boys as they celebrate the 40th George Paul Memorial Bull Riding at the Val Verde Fairgrounds in Del Rio, Texas on April 28 – 29 at 8 pm.
You will not want to miss this year's extravaganza and the opportunity to cheer on the number one bull rider in the world, five time World Champion Sage Steele Kimzey of Strong City, Oka. Kimzey who recently passed the two million dollar mark in total bull riding earnings, will attempt to win the George Paul Memorial hand crafted Juan Jose Muñoz Andrade buckle that is the exact replica of the previous 39 buckles awarded since the event began.
Described by Tuff Hedeman as an athlete that will be recorded in history as the best bull rider of his generation, Sage Kimzey will make his fourth appearance in Del Rio. In 2016 Kimzey rode Rhon Brown's Big Lew, to win the first performance on night one of the event, but the GPBMR title and the one of a kind Del Rio championship buckle has eluded Kimzey since turning pro in 2014.
Challenging Kimzey will be a stellar roster of multiple World Champions including the number two man in the CBR World Standings, Eli Vastbinder of Statesville, North Carolina, who will be challenged by multiple National Finals Rodeo qualifiers and a hefty list of red hot rookies that will make up the field of 24 elite bull riders from the top professional tours.
Dominate since Day 1, the George Paul Memorial Bull Riding moves into its 40th year celebration in April with two evening performances both starting at 8:00 pm.
For every new face you will see in the arena there are dozens of familiar ones that will return to Del Rio to try and ride their way to the prestigious title that is known as the birthplace of stand-alone bull riding.
Tickets on sale now for the GPMBR at several locations in Del Rio and at the box office at the Val Verde Fairground. (Address below)
CBR Famous Energy Bullfighters, Matt Baldwin, Brandon Loden, and Bryce Redo, and great family entertainment from barrel man Hippy Engelkes assures bull riding fans an enjoyable two hour adrenaline rush show.
"It's a combination of a great rock and roll concert and a heavy weight prize fight and refereed by Tuff Hedeman," said CBR Chief Executive Officer Benny Cude.
The George Paul Memorial Bull Riding is the last regular season event on the CBR's Road to Cheyenne tour and features a 24 man three round tournament style event ending in a final four Shoot Out round worth $30,000.
From established veterans to rookies, the vast majority of the cowboy athletes attending the GPMBR have been on the roster before. In the coming weeks, the CBR will preview several of the top bull riding athletes, analyzing where they've been and where they're going and what a win in Del Rio would mean to them and their season.
Hedeman, the four time World Champion, Pro Rodeo Hall of Famer and former GPMBR Champion, will be the chute boss and commentating for the Fox Sports broadcast and he will be making his way around town with the several of the super star bull riders signing autographs and hosting meet and greets at local establishments. A schedule of personal appearances will be released at a later date.